Q&A with Eddie Hooker: why lifetime deposits have been dropped by the Government
In this Q&A with Eddie Hooker, property writer and editor of LandlordZONE, Nigel Lewis, asks Eddie for his thoughts on why proposals for rental deposit passports or 'lifetime deposits', have been dropped by the Government in its Fairer Private Rented Sector White Paper.
Read Eddie's thoughts below or watch the video.
Protect your deposit today
If you have taken a cash deposit, you must protect it in a government authorised scheme within 30 calendar days
Prior to May's Queen's speech, portable lifetime deposits had been on the political agenda as one way to help tenants move home without having to, in effect, finance two deposits.
Instead, it was hoped, a national scheme would be set up that would enable renters to move seamlessly from home to home with just one.
But lifetime deposits were missing from the speech and Hamilton Fraser Group CEO, Eddie Hooker said that's because they just proved too difficult and complicated to set up.
Also, he added, they would have replaced the existing cash and insurance-based tenancy deposit system already in operation within the UK since 2007 that, everyone agrees, is working well.
The White Paper that was released on 16 June confirmed that, despite being a priority three years ago, the Government has parked proposals for 'passporting deposits' after a lack of enthusiasm from landlords, tenants and letting agents.
"There's been a lot of innovation in the deposit protection marketplace, but ultimately landlords feel more comfortable taking a physical cash deposit. And for most tenants outside London and the south east, finding a deposit isn't a huge ask, notwithstanding the kind of vulnerable person who will always struggle to find any deposit, and for them I think a different solution is needed other than a 'lifetime deposit'. Maybe local councils could be funded to help pay these tenants' deposits, or perhaps a more easily accessed and widespread bond system are just two examples. But in the south of England, where rents are high and by default deposits are high too, finding a deposit can be a problem."
Protect your deposit today
If you have taken a cash deposit, you must protect it in a government authorised scheme within 30 calendar days
Eddie says that during the Government's investigation into lifetime deposits it became clear to officials that most people are able to finance a deposit one way or another, for example through friends or family.
Also, it transpired that the 'deposit double bubble' problem at the end of a tenancy when a renter is waiting for the return of their previous deposit while having to pay the next one, isn't as widespread as people say it is.
"Given all this, I think the Government realised it is not practical to 'mandate' lifetime deposits and instead they've left it to market competition and innovation to provide solutions that might work, when I speak to officials, they say it's a 'watching brief' to gauge how this develops. The current tenancy deposit protection system works for landlords and tenants – so why twiddle around with that when other bigger issues that need to be solved first – such as Section 21, redress for tenants, decent homes and energy performance need, remain."
Also, the build-to-rent sector is already achieving 'deposit-free' moving with its tenancies, and on top of that the Hamilton Fraser Group has its own version via Ome's deposit replacement option where tenants replace their five week deposit with a small, monthly subscription, but keep the same protection.
"So, as long as decent companies are running these kinds of deposit alternatives and it's serving a need within the market, why put a lid on it just when it's getting going."
In the White Paper, the Department for Levelling Up Housing and Communities (DLUHC), said:
"The market has evolved since the call for evidence and has begun to develop innovative solutions to affordability issues, for example, loan and insurance products to bridge the period a tenant has where deposit requirements overlap. Private solutions have the potential to offer innovative and flexible solutions for different groups."
Instead of pursuing its original intention to pursue 'passporting deposits', it plans to:
Monitor market-led solutions that aim to reduce the problems experienced during the overlap between tenancies with our expert industry-based working groups, such as the Tenancy Deposit Protection Working Group, made up of deposit protection experts and tenant, landlord and student industry bodies
Keep the impact and risks of market-led solutions under review, including their affordability and accessibility, with the Tenancy Deposit Protection Working Group
Keep the current deposit protection and the broader deposit market under review and take further action, including legislation, if needed
Watch the full interview with Eddie Hooker on our YouTube channel to learn more analysis on what the future of the private rented sector could look like.
Protect your deposit today
If you have taken a cash deposit, you must protect it in a government authorised scheme within 30 calendar days
Author – Nigel Lewis, property writer and editor, LandlordZONE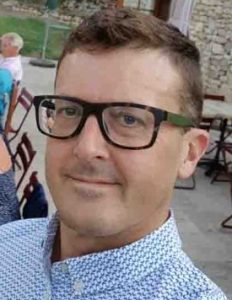 Nigel Lewis is an award-winning property journalist and editor with a 28-year track record in national newspapers, online and in consumer magazines and trade media.
With 21 years spent covering property, including publishing a monthly magazine linked to the Channel 4 property show, Location Location Location and as property editor at the Daily Mail, Nigel has for the past two years been editor in chief at the UK's leading landlord website, LandlordZONE, providing hot off the press property news and insights for the rental sector.
Acquired by the Hamilton Fraser Group in 2018 but maintaining its editorial independence, LandlordZONE has become one of the most visited landlord websites in the UK.